The Patrick Stewart celebrity doll portrays him as Captain Jean-Luc Picard in Star Trek: The Next Generation. The doll was made in 1996 by Playmates Toys for the movie
First Contact
.
Patrick Stewart is an English film, television and stage actor, and university Chancellor. He is well known for his television and film roles as Captain Jean-Luc Picard in Star Trek: The Next Generation and as Professor Charles Xavier in the X-Men films.
The doll is posable, has removable clothers, and is about 9 inches tall. It comes with a Next Generation stand that attaches to a hole in the doll's foot.
The Celebrity Doll Museum has other Star Trek action figures in the collection from the original series: James T. Kirk (William Shatner), Mr. Spock (Leonard Nimoy), Lieutenant Uhura (Nichelle Nichols), and Lieutenant Hikaru Sulu (George Takei)
Price check the Patrick Stewart doll on Amazon
Price check the Patrick Stewart doll on Ebay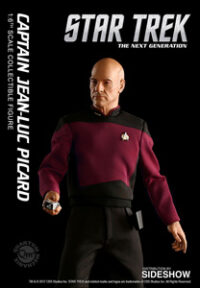 While not in the museum Quantum Mechanix makes two high-end 1/6 scale action figures of Patrick Stewart as Captain Picard.