The Benjamin Franklin celebrity doll portrays him as himself, an American Founding Father, inventor, scientist, humorist, writer, and all around talented man. He lived from 1706 to 1790. The talking action figure was made as part of the TimeCapsule Toys collection by ToyPresidents, Inc. in 2005.
The talking Ben Franklin action figure plays 47 unique and authentic phrases in an actor's voice. It includes such classics as "Haste makes waste", "Fish and visitors smell in three days," and "Three may keep a secret–if two are dead." A button under the lapel of the suit plays one phrase with each push through a speaker in the belly of the doll. The speech box is powered by three button batteries (LR44/L1154) in a screwed in compartment on the back. The batteries are changeable.
To hear the TimeCapsule Toys Benjamin Franklin audio track recorded from the doll's belly speaker, click the play button:
The doll comes wearing a taupe suede period suit with matching jacket, vest, and knee-high pants. The jacket is knee length with a line gray cover buttons from collar to the bottom seam. It is unlined, has a stand up collar, and a snap closure. The long suede vest has the same covered buttons with half up the side on the right and half on the left side below the snap enclosure, giving the appearance of it being buttoned half way down. The vest is lined with gray silk, has to flap faux pockets with a decorative button, and has a ivory tan ribbon pulling it tight in the back. The suede Knickerbocker pants have side snap enclosures and three gray decorative buttons on the bottom sides.
Underneath is an ivory cotton shirt with a lace collar and attached silk lace trimmed scarf tie. The shirt snaps in the front and has faux gold cuff links over the snap closure of the cuffs. Matching ivory thigh-high stockings and brown plastic with gold buckle shoes finish the outfit. No underwear. All the clothing is removable.
With the doll comes an adjustable doll stand and a biographical pamphlet: The Life of Benjamin Franklin – Founding Father which includes a serial number.
The doll is fully articulated at the major joints including waist, wrists, and ankles and very easy to pose.
To get the current prices of the TimeCapsule Toys Benjamin Franklin talking action figure try these links (it was a limited run so the doll is not always available for sale):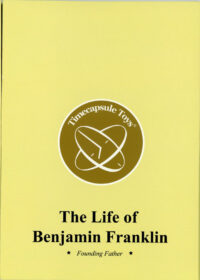 Read the Benjamin Franklin TimeCapsule Biographical Booklet in PDF format.
To see the complete list of ToyPresidents and TimeCapsule dolls from Toypresidents, Inc original website in 2008, use this link.
Complete list of Toypresidents, Inc. dolls from 2008. – A screen capture from their website.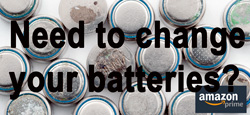 To see all the ToyPresidents/Timecapsule Inc. dolls in the Celebrity Doll Museum collection use this link.
Celebrity Doll Museum collection of ToyPresidents/Timecapsule Talking Action Figures.